24.4.14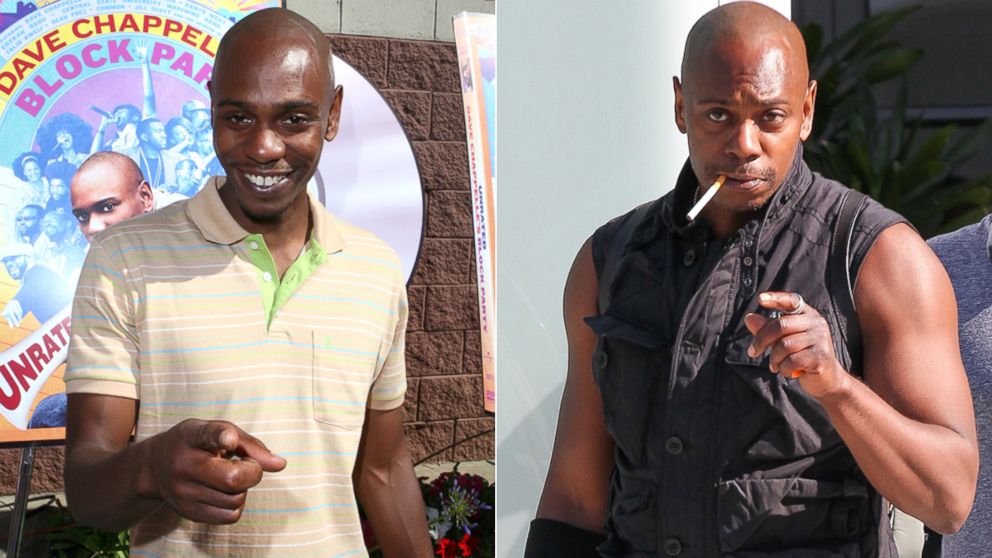 It's no joke -- comedian Dave Chappelle has been hitting the gym hard.
Earlier this week, the funnyman was spotted in Los Angeles and showing off his guns. Most people think of the "Chappelle Show" star as a lanky jokester, but not anymore.
22.4.14
Joseph Lewis Miller, a disabled 78-year-old church deacon, has been living quietly in the small rural town of Mineola, Texas, since the 1980s, under the name of Roy Eubanks. He has arthritis and a Pacemaker and uses a cane; he's served on a number of boards in the community; he used to work at a local paper plant; and he told his wife, Gennell Eubanks, that he once killed a man in "the accident that happened" decades ago—but said he never meant for it to happen, she tells the AP. Yesterday, federal agents arrested Miller on 33-year-old murder charges after tracking him to Mineola, and Miller was quick to confess.
They say Miller shot a man in the head in a parking lot outside a hotel in Harrisburg, Pa., in 1981. The victim, Thomas Waller, was found dead inside his car. Miller was charged with murder and three other felonies, but fled the state. Investigators got a tip that he had been living in Mexico under the name of his deceased cousin, and used that information to trace him to Texas. Miller's wife says her husband claimed he was trying to help his brother during a fight when Waller was killed, and that his relatives in Pennsylvania "didn't want him to come back. They told him to leave." Oddly, Miller also pleaded guilty in a 1959 murder, but his life sentence was commuted in 1971 after he had served more than 11 years, the Patriot-News reports. (Meanwhile, the ex-cop convicted in the "coldest case ever solved" is appealing.)
http://www.newser.com/story/185708/3...ch-deacon.html
A North Carolina officer was caught on video allegedly lying about a retired Marine combat instructor "being aggressive" in his own home, and then took the cell phones away from his family members who were trying to record the encounter.
Retired United States Marine combat instructor Carlos Jaramillo provided the blog Photography Is Not A Crime with video of Onslow County Sheriff's Deputy Natalie Barber responding to his home over the weekend over a dispute between neighbors.
In response to a string of recent break-ins, the Traditionalist American Knights of the Ku Klux Klan has given a local Pennsylvania chapter the go-ahead to form a neighborhood watch group.
"You can sleep tonight knowing the Klan is awake!" read fliers promoting the neighborhood watch group in Fairview Township. The leaflets appeared on the doorsteps of homes along Ridge Road on April 18, PennLive reports.
It's just like any neighborhood watch program. It's not targeting any specific ethnicity. We would report anything we see to law enforcement," Frank Ancona, the organization's imperial wizard and president, told PennLive. "We don't hate people. We are an organization who looks out for our race. We believe in racial separation. God created each species after its kind and saw that it was good."
A U.S. marshal shot and killed a Pacific Islander gang member Monday when the defendant tried to attack a witness with a pen inside the new federal courthouse in Salt Lake City.
Siale Angilau, 25, a member of the Tongan Crip Gang, was shot several times in the chest about 9:25 a.m. MT after charging the witness in an "aggressive, threatening manner," the FBI said. He died several hours later later at a hospital.
The witness, a Utah prison inmate, was testifying about the gang and how it worked.
"During the trial this morning the defendant went after, engaged the witness stand, and when he engaged the witness at the witness stand, he was shot by the U.S. Marshals Service," said FBI spokesman Mark Dressen. "From what I understand, the defendant may have grabbed a pen or a pencil and charged the witness stand at that time."
Angilau was on trial on racketeering charges in the courtroom of U.S. District Court Judge Tena Campbell. Along with a string of robberies and assaults of local store clerks, the 6-foot-3, 260-pound Angilau was also accused of shooting two U.S. marshals in 2007 and brandishing a firearm.
He had been in Utah state prison from September 2007 until being handed over to the U.S. Marshals Service on Friday after the jury had been selected, the Utah Department of Corrections said. He was not restrained in the courtroom.
After a four-month investigation, authorities yesterday busted 11 alleged members of a drug ring—a drug ring notable because some of its members were students and alums of pricey prep schools living in the leafy, affluent "Main Line" suburbs outside Philadelphia. Their goal, police say, was to keep five elite high schools and three colleges in Montgomery County, Pa., constantly stocked with drugs—they allegedly called it the "Main Line Takeover Project," CBS Philly reports. One of the alleged ringleaders, 18-year-old Timothy Brooks, "said this was important to him because he remembered not always being able to buy marijuana when he was in high school," according to investigators. Brooks graduated from the Haverford School, a $35,000-per-year, all-boys prep school, in 2013; his alleged co-ringleader, 25-year-old Neil Scott, was a 2008 grad of the school.